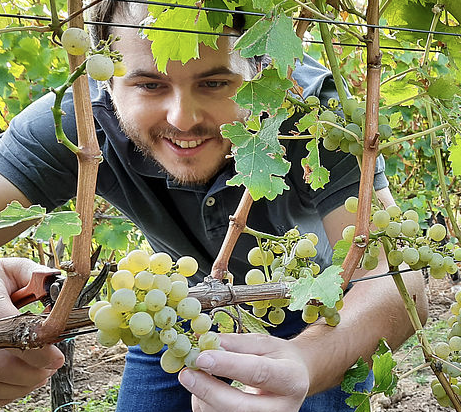 Vinmaker Marius Meyer høster Sauvignon Blanc i Pfalz.
DWI press release
Optimistisk start på Vintage 2020
Innhøstingen for Federweißer (nyvin) og basisviner for musserende sekt er allerede i full gang, og nå, ifølge det tyske vininstituttet (DWI), vil resten av innhøstingen begynne i mange vinregioner de neste dagene.
Hvert år markerer varianter som Frühburgunder, Sauvignon Blanc eller Müller-Thurgau sesongsstarten på høstingen. Sent modne druesorter som Riesling vil sannsynligvis ikke være høstklare før i midten til slutten av september, avhengig av vinregionen.
Her kan du lese presse melding fra DWI
Every year, varieties such as Frühburgunder, Sauvignon Blanc or Müller-Thurgau mark the start of the main grape picking season. Late ripening grape varieties such as Riesling will probably not be ready for harvest until mid to late September, depending on the winegrowing region.
The weather is ideal for winemakers
For the start of the main harvest, the vintners are very pleased with the current and forecasted weather of warm autumn days and cool nights, as this promotes the development of aromas in the grapes. The rapid ripening in recent weeks has also slowed down somewhat and is now proceeding at a more moderate pace, which makes the harvest a little more relaxed. The growers are also very positive about the good health of the grapes. Coupled with full ripeness, the 2020 vintage promises fruit-driven white wines and color-intensive red wines.
Yield will be very different from region to region
Even if overall the condition of the grapes is very good this year, the yield situation couldn't be more different. The water supply for the vines has been extremely varied because the rainfall in the last few months was so unevenly distributed, both regionally and locally. In younger vines and vineyards on soils that drain water quickly, the grapes remained very small due to a lack of water.
In Franken, Saale-Unstrut and Sachsen, late frosts also reduced the expected yields by up to 30 percent. In some instances, there were also hailstorms, which, although very localized, nevertheless caused considerable damage to the producers affected. Widespread sunburn damage to the grapes is another factor in reducing the yield.
A cautious preliminary estimate of the national yield is based on a harvest volume of around nine million hectolitres, which is approximately the figure of the ten-year average. A more precise forecast will only be possible in a few weeks, when the harvest is more advanced.